PRESS RELEASE
"Give us back our cops", demands PCC Kim McGuinness in the face of soaring 999 calls
999 calls to Northumbria's police control rooms are rising at very high levels prompting urgent pleas from Police Commissioner Kim McGuinness for Government to "Give us back our cops".
December 2022 saw 13% more grade 1 calls made across Northumberland, Tyne and Wear, compared to 2021, and 52% more compared to the pre-pandemic December in 2019. Figures also show that 999 calls last year rose by 9% in contrast to the previous year.
Kim McGuinness has said she's determined to ensure officers can respond to vital calls and that the public receive the service they deserve, but has criticised Government recruitment targets saying they don't even come close to what they were pre-austerity, and that our police and North East communities are being let down.
Since 2010, Northumbria Police has taken the biggest financial hit of all the forces in England and Wales – losing more than 1,100 officers and £148m in budget cuts – a result of what the PCC calls 'grossly unfair and regionally biased' budget cuts.
The Government-funded recruitment campaign was set up to replace officer numbers nationally, but Northumbria Police was only allocated the funds for a maximum of 615 additional recruits. This is 485 short meaning that locally uplift targets set by Government have barely replaced half of those lost.
This has led the Police Commissioner and Northumbria Police decided to set their own targets and get more neighbourhood officers out serving local communities. This has resulted in Northumbria Police's officer headcount growing from 3,129 to 3,744 but the Police Commissioner says that's still not enough.
Criticising Government for failing to put police officers back on our North East streets Kim McGuinness said: "Police demand is at an all-time high and yet Government funding continues to fail the people of the North East.
"As soon as a 999 call comes in we need to be getting officers out there responding to the needs of the public. And we need a well-resourced force to deliver this. It really is vital that our officer recruitment matches this growing demand. Quite frankly the targets set by Government show how out of touch they are with our needs.  What they have set out to achieve is not uplift, it's not how we fight crime and it's not how we look after the North East".
"This is why the Chief and I prioritised recruitment and set out our own recruitment drives designed to smash Government targets. It's far from easy balancing the books though but we fully recognise there's nothing more important than keeping the people of our region safe. It's about time Government did too and it's about time they gave us back our cops."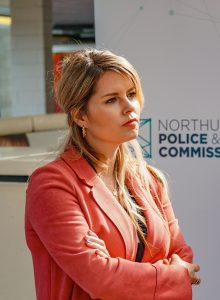 ENDS
Notes to editors:
Grade 1 incident demand remains high. For the period January to December 2022, there has been 13% more grade 1 incidents compared to the same period in 2021 and 37% more compared to the same period in 2020. It is acknowledged that during the COVID-19 pandemic incident demand volumes changed; however, when comparing to the same period in 2019 there is a 52% increase.
And
For the 12 months to December 2022, the number of 999 calls increased by 9% compared to the previous 12 months, from 269,769 to 300,941.