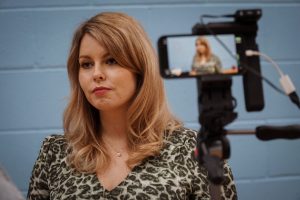 Northumbria Police and Crime Commissioner has warned the North East needs to use every resource it can get its hands on to reinvest in community services and youth provision to help rescue future generations out of hardship.
 Speaking at the Convention of the North in Manchester, she told delegates there is a real need for 'Sure Start Mark 2'.
Her comments follow saddening statistics out this week from the All-Party Parliamentary Group (APPG) Child of the North, which warned North East child poverty is now the highest since 2001.
In her speech, made in front of business, political and civic leaders discussing the opportunities and challenges facing the North, she outlined how investing in people regardless of their background leads to happier, safer neighbourhoods and a thriving cultural scene.
Established in 1999, Sure Start Children's Centres brought together health, parenting support, childcare and employment services. Widespread evidence suggests they saved the NHS millions of pounds in terms of improving the lives of those trapped in poverty, as well as helping families to give their children the best possible start in life.
Kim said: "In the North East, where I am Police Commissioner, the strategic policing plan I put in place is called Fighting Poverty, Fighting Crime, and part of what I am doing is bringing back Sure Starts centres by stealth. I'm using money recovered from criminals to reinvest in community services and youth provisions and my Violence Reduction Unit to backing local community hubs that bring people together, helping them through times and keep kids out of trouble.
"Let's face it, Sure Start Centres should never have been closed down – they brought the North East and its people huge benefits yet since 2010 we've seen them ripped from the heart of some of our most deprived communities. And now, over a decade later, there's no money directly available to fund ongoing interventions despite the benefits they bring elsewhere in the system.
"So, in the North East we're finding new ways to fund centres that create real opportunity- whether that's supporting parents to keep kids on the right track or investing in the trusted cultural role models who show there is a better way.
"We have some amazing charity-led centres that are desperately trying to fill the void and help local people to thrive like the Howdon Community Hub in North Tyneside or Pallion Action Group in Sunderland. There are brilliant people doing brilliant things. Not everyone is lucky enough to have support like this on their doorstep though. So, we all must keep doing all we can. If we get the basics right for young people we can prevent criminality later in life and we can ensure that it's not just the kids going to good schools who go on to become the northern starts of sport, business or culture in the future."