With more than 2000 champions already active in the region, Police Commissioner Kim McGuinness is now calling for more businesses to join the fight against Domestic Abuse.
Supporting those affected by domestic abuse can often start in the workplace, and with that in mind, Police Commissioner Kim McGuinness wants more businesses to take part in free training delivered by the Northumbria Violence Reduction Unit and to join its dedicated network of champions.
Over the last few years, the workplace has changed significantly with more people working from home, but for those affected by domestic abuse, it provides a lack of escape from the harm they face. That's why it's so important for employers to ensure support is always readily available.
Earlier this year, Government issued further guidance which meant businesses must now consider the impact of domestic abuse, such as a drop in work attendance and productivity, as part of their wider duty of care for their employees.
This training can help staff to understand and spot the signs of domestic abuse, support someone who has disclosed abuse as well as signposting them to dedicated services who are on hand to offer crucial help and support.
With more than 2000 champions already active in the region, and the Violence Reduction Unit having released its 2023 training dates, now is your chance to get involved and play your part in ending domestic abuse.
Northumbria Police and Crime Commissioner, Kim McGuinness said: "Employers have a responsibility to provide a safe working environment and for some staff, the workplace can be their only safe haven from domestic abuse. But, we know that in recent years, there has been a huge change in the way many of us work, such as spending more time at home – a place that should feel safe but isn't for those experiencing abuse. That's why I'm calling for more businesses to get in touch with the Violence Reduction Unit and get their staff signed up to this vital training. There is so much that can be put in place to support staff even when they are not in the workplace"
She added: "From spotting something that doesn't sit right to supporting a colleague who has disclosed abuse, this training and support network can make such a difference to those who need it".
Having already taken part in the training along with other members of his team, Daniel Errington-Barnes from Eldon Square in Newcastle said: "It's a fantastic scheme which helps you feel fully equipped to deal with a potential domestic abuse situation and most importantly, how to help that person out. You are kept up to date regularly and it is a free service – one that when the time comes, you will be very grateful to be part of. It has heightened my awareness and enabled me to be constantly on the lookout for any signs".
For more information or to take part in the training, please contact the Northumbria Violence Reduction Unit by email vru@northumbria-pcc.gov.uk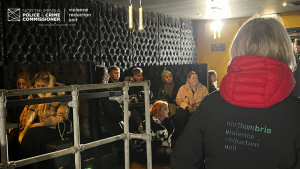 ENDS 
Links below to book 2023 DA Champions training:
Stage 1 (online): https://www.eventbrite.co.uk/e/workplace-domestic-abuse-champions-training-stage-1-tickets-491832523317
Stage 1 (In Person): https://www.eventbrite.co.uk/e/workplace-domestic-abuse-champions-training-stage-1-tickets-491881399507
Stage 2 (Online): https://www.eventbrite.co.uk/e/workplace-domestic-abuse-champions-training-stage-2-tickets-491927948737
Stage 2 (In Person): https://www.eventbrite.co.uk/e/workplace-domestic-abuse-champions-training-stage-2-tickets-491943926527